Tioga County Council on the Arts
179 Front Street, Owego, NY 13827 607-687-0785
Website: www.tiogaartscouncil.org
Email: info@tiogaartscouncil.org
Over 25 years presenting festivals, concerts, galleries and exhibits. Located in the center of Owego's Historic Business District, the Arts Council is in the process of restoring its building, known as the Old Owego Bank, back to its original grandeur of 125 years ago. ArtSpace Gallery open on first floor. Open weekdays, 9 am-5 pm.
---
Black Cat Gallery Gift Shop
190 Front Street, Owego, NY 13827 607-761-5278
Website: www.blackcatgalleryowego.com
A retail artist gallery with over 28 local and regional artists. Hand crafted textiles, pottery, visual arts, fine silver and multi-metal jewelry, watercolors, abstract paintings, photography and other items are available to view and purchase. Hours of operation: Sunday 10-3, Monday-Friday 10-5, Saturday 9-6.
---
Gallery 41 - Lake Street Artists Guild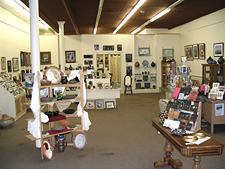 41 LakeStreet, Owego, NY 13827 607-687-2589
Website: www.galleryfortyone.com
An artist co-operative featuring works from local artists with traditional and contemporary skills. The Gallery displays arts and antiques, hand made quilts and textiles, blown glass, hand crafted jewelry and furniture. Just a short walk down Lake Street. Hours: Tues & Wed. 11 AM - 4 PM. Thurs. 10 AM - 7 PM, Fri. and Sat. 10 AM - 5PM. 1st and 3rd Sundays 11 AM - 3 PM.
---
Experimental Television Center
109 Lower Fairfield Rd., Newark Valley NY 13811 607.687.4341
Website: www.experimentaltvcenter.org
Since 1971 the Center has offered programs in support of the media arts. We offer an international residency program with a studio on Front Street in Owego, grants to individuals and media organizations, and sponsorship assistance for independent media and film artists. The Video History Web is a valuable resource for scholars concerning the formative development of media art and community television. Hours: by appointment.