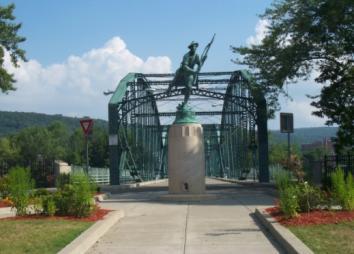 Binghamton is the only city in Broome County, situated at the confluence of the Chenango and Susquehanna Rivers.
Binghamton is the county seat and industrial base. Beginning in the 1860s with the coming of the railroad, Binghamton rose to prominence as a manufacturing center for cigars and other products. The prosperity of these industries resulted in the development of downtown Binghamton's factory complexes, rail yard, industrial loft buildings, commercial district and multi-story office buildings. Industrial districts were located at the confluence of the Susquehanna and Chenango Rivers in the 19th century, expanding along the railway sidings in the 20th century, to the west , In the mid-20th century industry spread broadly across the two county region, with electronics and metal forming industries located from Owego to Kirkwood.
Today Binghamton has a large downtown retail, cultural,and government district clustered around the Broome County Courthouse, with residential neighborhoods preserved around the outer perimeters of the downtown. Binghamton boasts a concentration of historic, cultural, and recreational resources and is home to one of the Heritage Area Visitor Centers, as well as a number of other key attractions for visitors, including two historic carousels, one in Recreation Park and the other in Ross Park. Art and cultural opportunities abound, ranging from live theatre productions at the Broome County Performing Arts Center to more than a dozen art-oriented businesses along Artists Row to the Gold Dome churches which represent the ethnic diversity of the local community. The City of Binghamton also includes numerous National Register Districts and properties.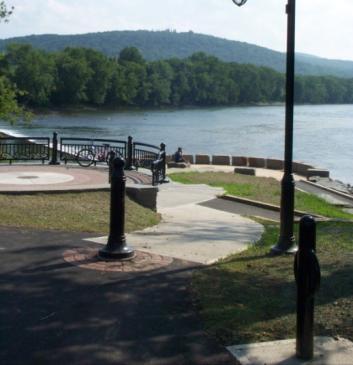 Aggressive revitalization measures have been undertaken in Binghamton over the past forty years to revitalize downtown in the face of declining industries and the loss of jobs. Urban parks and riverwalks are located along the Susquehanna and Chenango Rivers, greatly enhancing the downtown pedestrian experience. The historic metal truss bridge at Confluence Park, which extends South Washington Street across the Susquehanna River, is listened on the National Register of Historic Places.
Unique pedestrian streetscapes include "Gorgeous Washington Avenue" and Antique Row along Clinton Street. Artists Row is the center of the very successful First Fridays event, has become a popular location for public programming and home to art galleries.
The Broome County Performing Arts Center (The Forum), Veteran's Memorial Arena, the Binghamton University Downtown Center, and new hotels add pedestrian life to downtown.