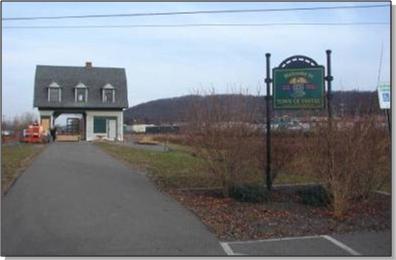 The Town of Vestal, located along the Susquehanna River to the south of Union, was established in 1823 and remained largely rural and agricultural for its first century with a small number of industrial mills.  A primary commercial hub of the town formed along Front Street, and five hamlets developed:  Ross Corners, Tracy Creek, Vestal Center, Willow Point, and Twin Orchards.  The primary settlement of Vestal and the hamlets had stores, churches, mills, and concentrated clusters of residents.
In the mid-20th century, Vestal became a bedroom community for employees of large industries in the Triple Cities.  Numerous residential subdivisions were built on what had been farmland, giving the town its present suburban character. Harpur College, now Binghamton University, built its new main campus in Vestal in the 1950s, attracting more residents.  The Vestal Parkway was enlarged to a four-lane road attracting commercial and light industrial developments along the parkway and making Vestal the primary retail center for Broome County.
Despite these changes, elements of Vestal's heritage remain. Vestal has taken significant steps to preserve aspects of its heritage, including establishing the Vestal Museum in a restored railroad station and creating the Vestal Rail Trail.  The Vestal Central School is listed on the National Register of Historic Places.