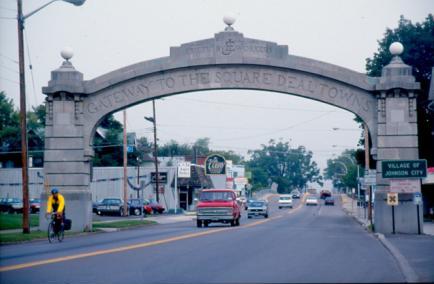 The Village of Johnson City is located at the east end of the Town of Union. The Village was still a rural area when the Lester Brothers Boot and Shoe Company relocated there from Binghamton. In 1892, a village was incorporated as the Village of Lestershire. Lester Brothers soon became the Endicott-Johnson Company and continued to manufacture
shoes and boots. Lestershire was renamed Johnson City in 1916. Endicott-Johnson employed thousands of new immigrants from Italy and Eastern Europe.
In a quest for reformed labor practices and quality of life, the company provided its Johnson City employees with community amenities, such as parks, swimming pools, and a merry-go-round (carousel). Your Home Library offered classes and places for residents to socialize. Suburban-style company-built housing developments also developed. Today, Johnson City retains a commercial district along State Route 17C and residential neighborhoods dating from the 1890s to the 1950s.
Johnson City has a uniquely vibrant story related to Endicott-Johnson's brand of community building and welfare capitalism.