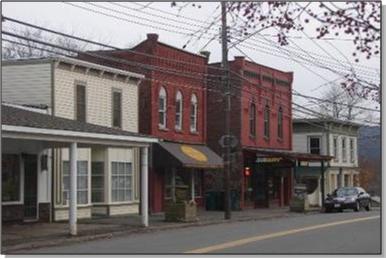 The Village of Windsor was established in 1830 as a commercial and industrial center, and is located near the site of Ouaquaga, one of two major locations of Native American villages in what is now Broome County. The villages were destroyed during the Revolutionary War. The Village of Windsor began with a few stores and grew to include saw mills, as well as manufacturers of wagons, carriages, rakes and whips. The Village was incorporated in 1896, by which time it was a thriving small agricultural town.
Windsor's main street, part of a very intact National Register district, now boasts over a dozen historic frame or brick commercial buildings and former factories. Two former hotels and a town hall contribute to a well-defined downtown core. Slate sidewalks line the street.
At the edge of the commercial area is the spacious village green with its Tudor Revival bandstand. Two white clapboard churches overlook the green from the rear, and three more are located elsewhere in the Village. The main road and a network of small streets behind the green contain several dozen houses, many of which are excellent examples of Greek Revival and other architectural styles.